Blackjack, also known as twenty-one, is the most widely played casino banking game in the world and is also a huge part of the online casino industry.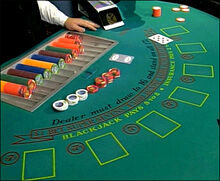 Blackjack is a comparing card game between a player and dealer, meaning players compete against the dealer but not against other players. It is played with one or more decks of 52 cards.
The object of the game is to beat the dealer in one of the following ways:     
Get 21 points on the player's first two cards (called a blackjack), without a dealer blackjack;    
Reach a final score higher than the dealer without exceeding 21; or    
Let the dealer draw additional cards until his or her hand exceeds 21.
Ad blocker interference detected!
Wikia is a free-to-use site that makes money from advertising. We have a modified experience for viewers using ad blockers

Wikia is not accessible if you've made further modifications. Remove the custom ad blocker rule(s) and the page will load as expected.